Who Is Keith Pascal?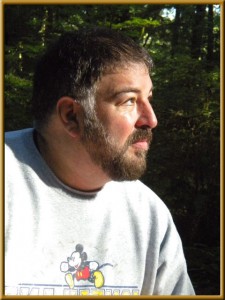 Hi, I'm Keith I. Pascal ("Kip").
I am 61 years old, and I live with my wife, Kathryn, in Eugene, Oregon (USA). In We also live with two, big Labrador Retrievers, an old Blind Boston Terrier, and a Bengal cat, who is actually the boss of the house.
For the last 20+ years, I have been writing books and ebooks full time.
Before that, I was a high-school foreign language teacher. I taught from 1988 – 1995 at Marshfield High School on the Oregon Coast, in Coos Bay.
In 1995, Kate and I moved to my home town, Eugene, Oregon, where we still live. For the first five years back, I taught Spanish at Churchill High School.
These days, my life revolves around home life, practicing martial arts and magic, writing martial arts and magic, and pursuing a lot of interests.
For example, I love doing art … any type, but I really enjoy digital painting, because I can take my iPad anywhere.
Here's a quick time line of the last 40+ years:
1966 — First Judo classes at age 6. I start martial arts.
1967 — First magic trick learned. Spend year in Italy at age 7-8. I attend a Montessori school in Rome, Itay.
1973 — Take Tae Kwon Do for a little under a year, in Eugene, Oregon.
1974 — Start performing more magic shows. Go to Hawaii. Perform for and with Jimmy Yoshita. In Oregon,  I teach magic for Eugene Parks and Rec Dept.
1975 — Start Shotokan Karate Classes. (Meet Steve Golden at a magic show)
1976 — Spend the summer in Italy with my parents and my Grandma Shulman (Grams).
1977 — Open What's Next Magic Shop in Eugene
1980 — Start full time Twin Dragons Method and JKD with Steve Golden (thru 1988)
1983 — Bachelor of Arts in Italian. Work as night auditor for The Ramada Inn.
1984 — Open Quest Books, Eugene.
1985 — Martial Arts Teacher's Certification (Twin Dragons and JKD)
1986 — Start Master's Program — Teach Italian and Spanish on a Graduate Teaching Fellowship at University of Oregon.
1988 — Master's in Spanish + Basic Teacher Certification (k-12) Job at Marshfield High on the coast.
1991 — Standard Teacher's Certification for the State of Oregon (k-12).
1993 — Marry … Kathryn Leifer (now Pascal)
1995 — Move back to Eugene. Job at Churchill High School teaching Spanish.
1998 — Our one child is born.
1999 — Publish my first book, Wrist Locks (Revised and Updated ).
2000 — Leave teaching to write full time.
2012 — Publish my first juvenile fiction, The Cloud King: Thunder Nuggets and Fog. Kate leaves teaching to write full time, too.
2013 — Help websites with marketing campaigns. My amazon ebooks spend time on bestseller list, one at the top. I take over the Pascal Estate.
2014 — Fun, major house remodel. Heavy push for more Amazon success, like the previous year's. Having an ebook at the top was satisfying.
2017 — Write more martial arts articles. Help a few magicians on their projects.
2021 — After Covid, make plans to finally take photos for the current magic manuscript. Start reworking a few websites. Continue managing our finances and business(es).