Who Is Keith Pascal?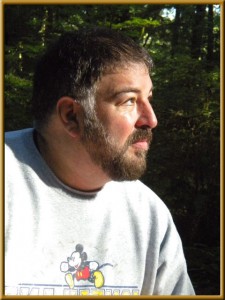 Hi, I'm Keith I. Pascal ("Kip").
I am 57 years old, and I live with my wife, Kathryn, and my daughter, Quinn, in Eugene, Oregon (USA). In June of 2013, we added my father and his dog to the mix. (Now, we have 3 dogs and a cat. Whew.)
For the last 17 years, I have been writing books and ebooks full time.
Before that, I was a high-school foreign language teacher. I taught from 1988 – 1995 at Marshfield High School on the Oregon Coast, in Coos Bay.
In 1995, Kate and I moved to my home town, Eugene, Oregon, where we still live. For the first five years back, I taught Spanish at Churchill High School.
Quinn was born in 1998. She's our only child, and together we make up The Three Musketeers. (Now, my father acts as D'Artagnan, the Fourth Musketeer.)
These days, my life revolves around my family (as it should), and managing my mother's estate, since her death. Updating this site is my first attempt at getting back to my normal writing life. I love writing about martial arts and magic. And I hope to continue publishing children's fiction (The Cloud King) and success parables (The Dream Wizard).
Here's a quick time line of the last 40+ years:
1966 — First Judo classes at age 6. I start martial arts.
1967 — First magic trick learned. Spend year in Italy at age 7-8. I attend a Montessori school.
1973 — Take Tae Kwon Do for a little under a year.
1974 — Start performing more magic shows. Go to Hawaii. Perform for and with Jimmy Yoshita. I teach magic for Eugene Parks and Rec Dept.
1975 — Start Shotokan Karate Classes. (Meet Steve Golden at a magic show)
1976 — Spend the summer in Italy with my parents and my Grandma Shulman (Grams).
1977 — Open What's Next Magic Shop in Eugene
1980 — Start full time Twin Dragons Method and JKD with Steve Golden (thru 1988)
1983 — Bachelor of Arts in Italian. Work as night auditor for The Ramada Inn.
1984 — Open Quest Books, Eugene.
1985 — Martial Arts Teacher's Certification (Twin Dragons and JKD)
1986 — Start Master's Program — Teach Italian and Spanish on a GTF at University of Oregon.
1988 — Master's in Spanish + Basic Teacher Certification (k-12) Job at Marshfield High on the coast.
1991 — Standard Teacher's Certification
1993 — Marry … Kathryn Leifer (now Pascal)
1995 — Move back to Eugene. Job at Churchill High School teaching Spanish.
1998 – Quinn Pascal is born.
1999 — Publish my first book, Wrist Locks (Revised and Updated ).
2000 — Leave teaching to write full time.
2012 — Publish my first juvenile fiction, The Cloud King: Thunder Nuggets and Fog. Kate leaves teaching to write full time, too.
2013 — Help websites with marketing campaigns. My amazon ebooks spend time on bestseller list, one at the top. I take over the Pascal Estate. Move to a new house. Spine surgery.
2014 — Fun, major house remodel. Heavy push for more Amazon success, like last year's. Having an ebook at the top was cool.
2017 — Start really focusing on writing, again. Revamped web sites, and finished some manuscripts.