Keith Pascal's life as an author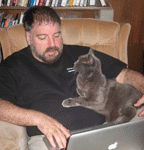 In the beginning …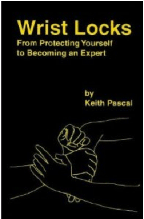 It all got going in 1997-1998, when I wrote the manuscript for Wrist Locks: From Protecting Yourself to Becoming an Expert.
Kate was pregnant at the time, so I didn't want to use her as my macho model for photos in the book, and I didn't have the resources to hire professionals. Would you like to know what I did instead?
I took photos of her doing the locks. Using those as models, I drew the illustrations for the book, eliminating Kate's belly, increasing her shoulders, and chopping her hair.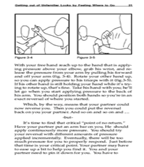 The drawings were crude, at best, but more fitting for a joint-locking book than using photos of a pregnant, 5′ 2″ female. The illustrations were rough, but if I believe what I've heard, they had charm.
Uh … that little hardback book, with the amateurish drawings, sold and sold.
(I once saw an autographed copy of the out-of-print book selling for $850.00 on Amazon. Whew!)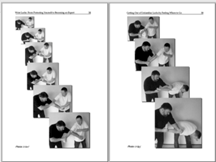 Note: In 2010, I revised and updated
Wrist Locks
. The soft cover copy has 423 new photographs (no more rough drawings), added chapters, and some lock modifications. It's absolutely 100 times better than the first edition. It even has two bonus chapters, featuring an original Bruce Lee and Ed Parker student.
In 2000, I left teaching to write full time. I wrote article after article, and book after book. I focused on martial arts how-to, exclusively.
When I look back (or online), I see over 2,000 online articles — some have been retired, and some were removed for inclusion in ebooks.
I also notice more than 30 ebooks, oodles of booklets, and a dozen different email lists. My longest-running newsletter, Martial Arts Mastery: A Tell-All of Tips, Tactics, and Techniques, has been sending out weekly issues for well over a 15 years, and it's still going strong.
In that bunch of ezines, there exists a magic newsletter that I've put a lot of time into: The Magic Mentor is there to help magicians smooth out the rough edges. Let's bust the stereotype of the bad, kid-show magician who barely entertains and only occasionally fools. Not all magicians wear dirty tuxedos and come to the birthday party drunk.
The Magic Mentor helps magicians become classier and better entertainers.
Why magic?
Well, I've been into magic since 1967. My family opened a magic shop in 1977. I put myself through college by performing, teaching, and selling magic. And I still do magic to this day.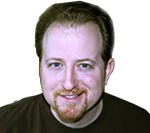 When I met Lee Asher in 1999, we knew that we could help each other, professionally. In 2003, he made the decision to move to Eugene, so we could collaborate easier.
I guess the magic bug hit me again resulting in renewed enthusiasm. I wrote a few magic manuscripts and decided to publish one, with Lee's help. Coin Snatching was born.
After that, I had another magic success with The Paper Slips. It was a magician's parable about becoming a better entertainer.
I rather enjoyed story writing, and before I knew it, I had several parables under my belt:
Tiptoeing to Tranquility: The Parable for Finding Safety and Comfort in Dangerous Times (Soft cover)
The Tale of One-Armed Albert (ebook on efficient punching)
Blur Smith: The Greatest Knife Fighter in the World (5 short stories)
Even though I continued to write martial arts how-to, I was really jazzed about writing fiction. So, in 2012, I tried my hand at publishing  a children's book that I had started writing before Quinn was born (The Cloud King: Thunder Nuggets and Fog), and I also published a business parable (The Dream Wizard: How to Get Rich and Achieve Your Goals By Working for Yourself).
Both of these ebooks achieved notable successes in several subcategories … top 10 in Children's weather books and number one in business motivational ebooks.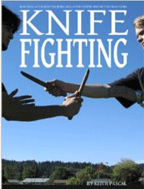 Then my little knife fighting ebook climbed to the number one spot in three categories, and it stayed in the running (Top 10) for over a month. It also made to the hot new releases in Martial Arts, and a featured book in the same category. That means every ebook search for martial arts at Amazon featured my ebook in two places. There are only three hot new releases visible on the page, and one of them was mine.
That caused an avalanche of sales.
I was having so much fun, that I even published 5 short stories under a pseudonym, in a completely different genre. I even took on a few high-paying freelance jobs, helping others with their marketing.
In 2013, I had to take on family duties and manage our local family's business and finances. That slowed down my online efforts, although I did continue to publish articles for Martial Arts Mastery, every week. (I still publish these articles every Tuesday.)
My current writing focus is on some of my smaller sites, that I hope to grow into a few bigger projects. I'm also finishing up another book for the world of magic and magicians. My goal is to publish it in 2022.
If you'd like to check out a few of my site projects, take a look at: FirstClassInformation.com, CoinSnatching.com, and KerwinBenson.com. (Contact me for some of my other many projects … also, in various stages of disarray.)