Coin Trick #1
At Learn-Free-Coin-Magic-Tricks.com I have a FREE pdf called Coin Trick #1.
Are you wondering if it was the first coin trick that I ever learned? Well, it wasn't.
The first coin trick I learned was a variation on The French Drop. Since it's everyone's first coin trick, I thought I'd spice things up a bit and present something much more amazing.
Note: Although in the hands of a seasoned magician, The French Drop can be extremely baffling. I use my own variation all the time.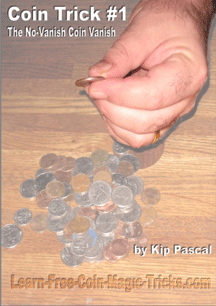 The trick that I teach can be generalized to different situations. And the really nifty-groovy (combining expressions from the 50s and 60s) benefit to this effect is that you are left completely clean. After you vanish your coin, you get to show both hands empty. Totally baffling.
If you go to Learn-Free-Coin-Magic-Tricks.com you can download a copy right from the site. Would you like me to let you in on a secret?
While you're there, sign up to the list to learn more free coin magic tricks. Why?
Because you'll get more free ebooks on coin tricks … and here's the secret: One of the early magic booklets that you get takes the principles from this first coin trick and expands it into a completely new effect. If you think that vanishing a single coin is miraculous, wait until you see this variation.
And once again, you're left completely clean … both hands empty!
Either way, grab the single ebook, or sign up for the free newsletter. Always your choice. (I treat people the way I want to be treated. Period.)